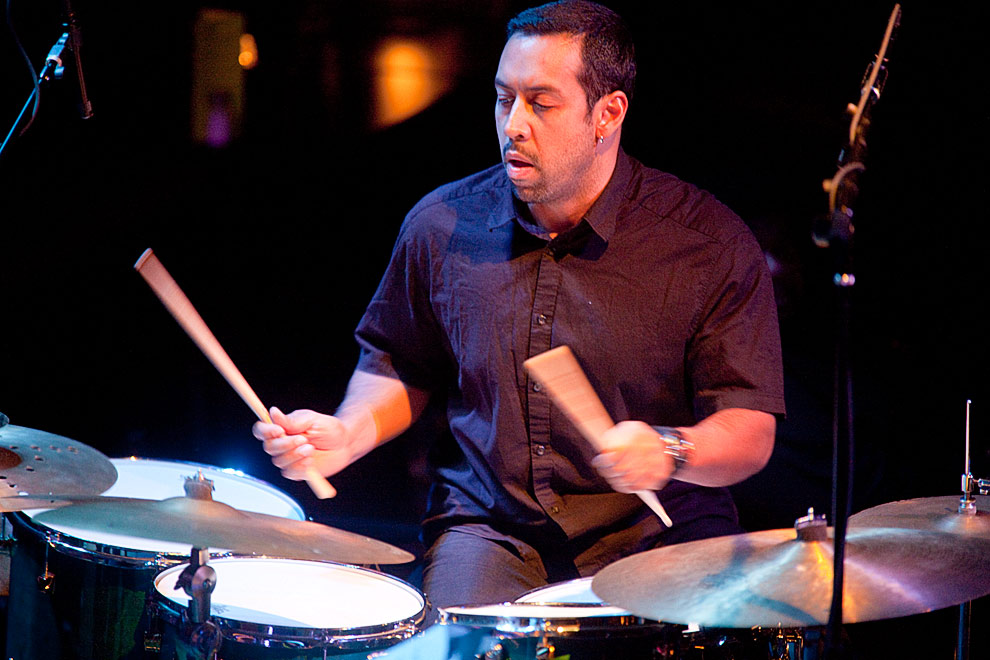 Un grande batterista che nasce pianista
Antonio Sanchez è nato in Città del Messico. Inizia a suonare la batteria a 5 anni, giovanissimo.
Raggiunti i dieci anni inizia così a suonare professionalmente. Nel 1993 frequenta il corso di pianoforte classico al conservatorio Nazionale del Messico; in seguito si trasferisce a Boston, nel Massachusetts per studiare al Berklee College of Music. Dopo essersi diplomato con lode in Musica Jazz, Antonio ottenne una borsa di studio per un master universitario in Improvvisazione Jazz al Conservatorio New England di Boston.
La sua rapida ascesa nel mondo della batteria jazz inizia pochi mesi al Conservatorio quando Paquito D'Rivera chiama il professore di Sanchez, Danilo Perez, per una segnalazione per il ruolo di batterista nell'Orchestra United Nation di Dizzy Gillespie. Perez segnala Antonio Sanchez e così Sanchez si ritrova in tournée con l'orchestra.
In seguito, nel 1997 Perez invita Sanchez a far parte del suo trio che riceve una nomination per il Grammy Award per l'album Motherland.
La sua partecipazione alla tounee giunge anche alle orecchie del leggendario chitarrista Pat Metheny che invita Sanchez a suonare nel Pat Metheny Group come batterista dopo una serie di ascolti.
Il Gruppo registra due album dall'arrivo di Sanchez. Il primo, Speaking of Now vince un Grammy Award nel 2003 per la categoria Best Contemporary Jazz Album. È inoltre pubblicato un DVD che mostra la tounée.
Il secondo viene pubblicato The Way Up nel 2005. Inoltre Antonio Sanchez fa parte anche di altri quartetti e trii sotto la direzione di Pat Metheny. Il Pat Metheny Trio (Metheny , Sanchez, e Christian McBride al basso) pubblica Day Trip nel 2008 ed ottiene un ampio successo tra le critiche jazzistiche.
Nel 2007 registra il suo primo disco in solo, Migration. L'album include un ampissimo gruppo di rinomati jazzisti del giorno d'oggi: Pat Metheny, Chick Corea, Chris Potter, David Sanchez and Scott Colley.
All About Jazz lo definisce uno dei migliori debutti del 2007. Antonio Sanchez dice del suo album: "Non voglio che le persone dicano che questo è un album di un batterista. Vorrei che questo possa essere qualcosa di qualunque musicista. Penso in termini musicali, non quante vendite otterrò e se soffio abbastanza sulla brace o no. Io vorrei che la musica fosse molto melodica e accessibile a tutti con un sacco di belle interazioni."
Antonio si trasferisce a New York City dal 1999 e frequenta la New York University nel 2006
Discografia Antonio Sanchez:
Solo
Antonio Sanchez"New Life"
Antonio Sanchez"Live In New York"
Antonio Sanchez "Migration"
con Pat Metheny
2002
Speaking of Now
Etichetta: Nonesuch Records (Pat Metheny Group)
2005
The Way Up
Etichetta: Nonesuch Records (Pat Metheny Group)
2008
Day Trip
Etichetta: Nonesuch Records (Pat Metheny Trio)
Tutte le collaborazioni:

Pat Metheny Unity Band

Pat Metheny "Tap"

Pat Metheny Group "Speaking of Now"

Pat Metheny Group
"The Way Up"

Pat Metheny Trio
"Day Trip"

Pat Metheny Trio
"Tokyo Day Trip Live"

Michael Brecker
"Wide Angles"

Chick Corea "Dr. Joe"

Gary Burton "Quartet Live"

Gary Burton "Common Ground"

Gary Burton "Guided Tour"

Miguel Zenon

"Ceremonial"

Miguel Zenon "Looking Forward"


Miguel Zenon "Jibaro

Avishai Cohen "Colors"


Avishai Cohen "Unity"


Danilo
Perez


"Motherland"




David Sanchez "Travesia"


David Sanchez "Melaza"


Kenny Werner
"Balloons"

Mario Canonge "Rhizome"


Enrico Pieranunzi
"Permutation"


Enrico Pieranunzi
"Live at Birdland"


Dianne Reeves "When You Know"

Janis Siegel "Sketches of Broadway"

Manuel Valera "Melancolia"


Manuel Valera "Historia"

Avi Lebovich "Constant Chase"

Sean Driscoll Group

Alex Sipiagin "Out Of The Circle"

Alex Sipiagin "Returning"

Alex Sipiagin


"Generations"

Alex Sipiagin
"Prints"

Laura McDonald "Awakenings"

Tony Lujan "You Don't Know What Love Is"

Gilson Shashnik "Raw"

Edu Tancredi "Ongoing Dreams"

Edu Tancredi "Latin Spell"

Marcus Roberts "In Honor Of Duke"

Victor Mendoza "Black Bean Blues"

Benito Gonzalez "Starting Point"

Angel David Matos
"Danzzaj"

Donny McCaslin "Soar"

Donny McCaslin
"In Pursuit"

Donny McCaslin
"Perpetual Motion"

Donny McCaslin "Declaration"


Gilson Shachnik "Lampiao"

Diego Urcola "Viva"

Manuel Rocheman "Cactus Dance"

Alejandro Cimadoro
"The Princess And The Moonlight"

Benny Reid "Findings"

Randal Corsen "Armonia"

Anat Cohen "Noir"

Scott Colley "Architect of The Silent Moment"

Tom Wopat "Dissertation On The State Of Bliss"

Janita
"Seasons Of Life"

Johana Grussner
"No More Blues"

Tsiganov Brothers "Tsiganov Brothers"

Luciana Souza "The New Bossa Nova"

Hans Glawischnig "Panorama"


Sebastian Schunke
"Back in New York"
Jane Monheit "The Lovers, The Dreamers And Me"
Leo Blanco "Africa Latina"
Leonardo Cioglia "Contos"
Paoli Mejias "Jazzambia"

Paoli Mejias
"Mi Tambor"

Gary Hasse "String Theory"
Oscar Feldman "Oscar Feldman y Familia"

Snow Owl "The Art of Contrabass Guitar"
Ralph Bowen "Dedicated"

Ralph Bowen "Due Reverence"

Tulug Tirpan "My Green Color"
Orlando Fleming
"From Brooklyn With Love"

Dario Boente
"Looking For Trouble"
Billy Childs "Autumn in Moving Pictures"
Bob Sheppard
"Close Your Eyes"
Bartosz Hadala Group
"The Runner Up"
Soren Moller "Tribute to Train"
Henrik Meurkens & Gabriel Espinosa
"Celebrando"

Gabriel Espinosa
"From Yucatan to Rio"

Helio Alves "Musica"
Mason Brothers
"Two Sides One Story"

Margret
"Com Voc"