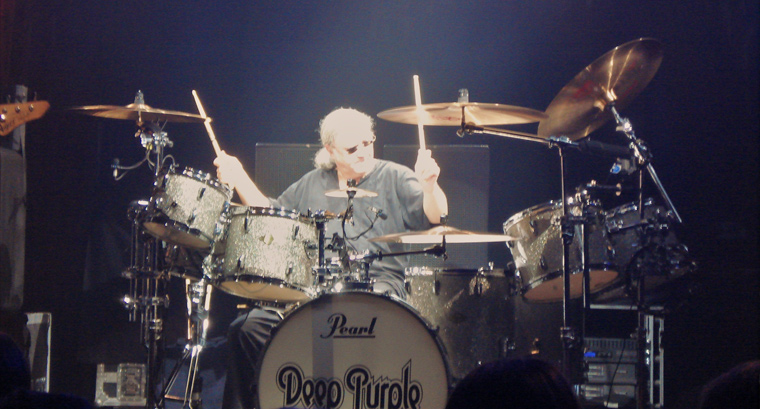 Ian Paice (Ian Anderson Paice) è nato a Nottingham il 29 giugno 1948, è un batterista britannico. È uno dei batteristi più conosciuti nella scena musicale rock, divenuto famoso come membro dei Deep Purple. Molto creativo e capace di impressionare con lunghi assoli, è considerato uno dei migliori batteristi di sempre, dal suono e dallo stile unico, nonostante usi sempre una strumentazione molto semplice. Paice ha spesso utilizzato anche influenze jazz e swing nel suo stile, una rarità per un batterista rock.
Nato a Nottingham ma cresciuto nella cittadina di Bicester nell'Oxfordshire, Paice ha la sua prima esperienza musicale in un gruppo locale chiamato Georgie and the Raveons, dopo divenuto Shindigs, che lascia per unirsi agli MI 5, poi chiamati Maze, con Rod Evans. Tuttavia è all'età di 19 anni, nel 1967, che Paice contribuisce alla fondazione dei Deep Purple, ed è l'unico musicista ad essere sempre stato presente in tutte le diverse incarnazioni della band.
Ian Paice ha anche suonato negli Whitesnake, con Gary Moore e per i Paice, Ashton & Lord.
Come turnista vanta moltissime collaborazioni. Fra le altre cose, ha suonato per Paul McCartney, nell'album Run Devil Run pubblicato nel 1999 (alla chitarra c'era David Gilmour).
Fra i momenti più rappresentativi del suo stile non va dimenticata la prestazione resa nel live "Made In Japan" dei Deep Purple dove, rifacendosi ad una prassi già sperimentata in precedenza da batteristi come Ginger Baker dei Cream (Toad) e John Bonham dei Led Zeppelin (Moby Dick), si esibì in un assolo percussionistico di vari minuti nel brano The Mule.
Nel 2002 è uscito un DVD documentario dal titolo Ian Paice on the Drums oppure Not for the Pro's.
È mancino, e quindi quando suona monta la batteria "al contrario", cioè con charleston e rullante a destra e timpano a sinistra.
Nella adolescenza ha suonato il violino, ma poi ha smesso perché gli piaceva di più la batteria.